Barley & Hops Club
The Barley & Hops Club was an idea that became a reality for all of our beer connoisseurs in 2013 and we have now reached over 100 members! The Barley & Hops Club had another outstanding year last year and are looking forward to some new events planned for 2023.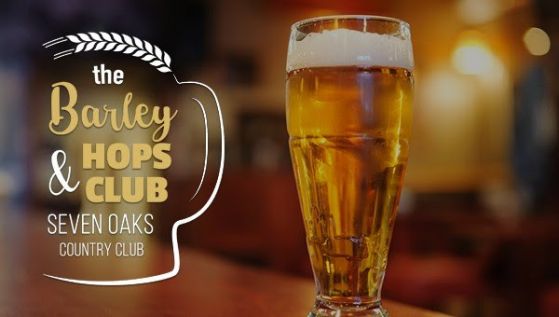 Our very popular 9th annual Beer Belly Open was once again a sold out event! Great memories were made and we look forward to many more to come in 2023. Don't miss out on this wonderful opportunity.
Barley & Hop Club Benefits Include
First year members receive a signature 20-ounce beer mug displayed in the Grille Room for your enjoyment (4 more ounces than our regular drafts!)
A Barley & Hops Club zip-up fleece
Preferred pricing to all Barley & Hop Events for you and your significant other
Special discount book on food and beverage including, 7 cent beer coupons of any draft, $7 six packs for the golf course or pool, half off appetizers, complimentary order of wings and more!
Special gifts when spotted by Chris when wearing your Barley and Hops gear
An opportunity to make new acquaintances and friends.
A great time!
All of this for just a $75 annual membership fee!
All Seven Oaks Members may now purchase a Seven Oaks Engraved German Style 2 Liter Growler for $40 and can fill them with any of our 6 drafts for $20 any day of the week!
All Barley & Hops Club members may purchase one for a discounted rate of $35 and can fill them for $15 any day of the week!
Be sure to contact Chris Juba to purchase your growler for the 2023 season.
A Growler makes a great gift!
Join a Special Interest Member Club