Holiday Brunch Dates
November 2, 2018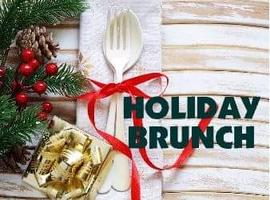 Join us for a delicious holiday bunch in December! Below are the dates and details:
Holiday Brunch with Kids Cookie Decorating: Sunday, December 9th, 11 a.m. - 2 p.m.
Holiday Brunch: Sunday, December 16th, 11 a.m. - 2 p.m.
Holiday Brunch: Sunday, December 30th, 11 a.m. - 2 p.m.
Holiday Bruch Menu
Soup and Salad Station
Featuring Smoked Salmon, Shrimp Cocktail, Seasonal Salad, Unique Cheeses and more!
Pasta Station
Omelet Station
Omelets, Waffles and Fruit Crepes made to order
The Carver
Oven Roasted Prime Rib and Glazed Ham
The Grand Buffet
Scrambled Egg with Cheese
Home Fried Potatoes
Hash Browns with Seasoned Apples and Asian Pears
Cherry Wood Smoked Bacon
Canadian Bacon
Pork Sausage Patties
Assorted Pancakes and Syrup
Entrees
Apricot Chicken
Mushroom Ravioli
Sliced Pork Tenderloin with Cranberry Chutney
Dauphinoise Potatoes
Salmon Cakes
Seasonal Fresh Vegetables
Chicken Finger and Fries
The cost for each brunch is:
Adults- $26.95
Children(6-10)- $14.95
Children(3-5)- $7.95
Reservations are highly recommended!